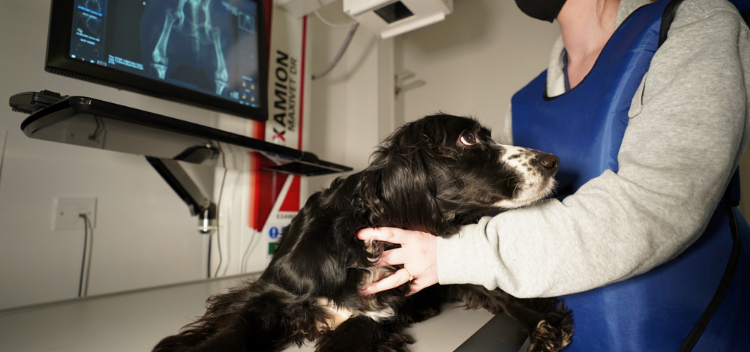 Diagnostic imaging: X-ray & Ultrasound
Emma and the rest our of highly skilled Veterinary Surgeons use on-site diagnostic imaging equipment to obtain internal images accurately and rapidly. Seeing what's going on inside animals can be crucial to a speedy diagnosis and the correct treatment plan.
Book a consultation with one of our Vets
Digital radiography (x-rays) in 3 seconds flat!
STAR Vets has a direct digital system, meaning that an image can be obtained within 3 seconds of an exposure being taken.
We are able to offer the use of direct digital x-ray as opposed to computed digital or film x-ray. The resulting images are produced at a much higher resolution and because the results are available almost instantaneously, our Vets can diagnose pet health conditions much more rapidly. This ensures that our patients receive the best veterinary care they need as soon as possible.
Did you know that x-rays can be used to diagnose much more than skeletal issues? Radiology is also used to examine various organs including the heart, lungs, liver, kidneys and small intestines for irregularities. These could range from a foreign body lodged in the stomach or intestine, or the presence of fluid, a tumour, or disease.
X-rays are performed under light sedation, or general anaesthetic when appropriate. This is necessary so that our Vets can get a good quality digital image from a completely still patient. Our Vets will talk you through this during your consultation.
Digital x-rays allow for quicker referrals
One of the key advantages of using digital rather than traditional x-ray is the ability to share x-ray data by email. This means our Vets can refer the x-rays without necessarily referring your pet. This can result in a much quicker diagnosis of conditions that require a specialist opinion. Learn more about our referral services.
Dental radiography
At STAR Vets, we believe that dental health in our pets is hugely important. Dental disease is a big problem, which affects 87% of dogs and 70% of cats over the age of three years old.
Teeth are a little bit like icebergs – 60% of the dental tissue lies below the gum line. The only way to visualise these structures is by using dental radiography. We are one of only a few practices in the area that have digital dental radiography equipment, which helps us ensure that we are providing gold standard dental care for your pets.
Learn more about pet dental care at STAR Vets.
Veterinary Ultrasound
Ultrasound provides a painless and non-invasive way to examine your pet's internal organs. This advanced diagnostic tool is often used in conjunction with digital radiography in order to identify and treat specific pet health conditions.
Ultrasound technology uses sound waves to provide a three-dimensional view of your pet's organ, giving our Vets vital clues about your pet's condition. It is most commonly used to examine the heart and abdominal organs. It also offers a safe and painless way to accurately conduct pet pregnancy screening.
A full suite of diagnostic equipment
On-site diagnostic tools enable our Vets to diagnose and treat injuries and illnesses quickly. This can be crucial to the speedy recovery of your pet. We also have an ECG monitor, and a laboratory on-site – learn more.