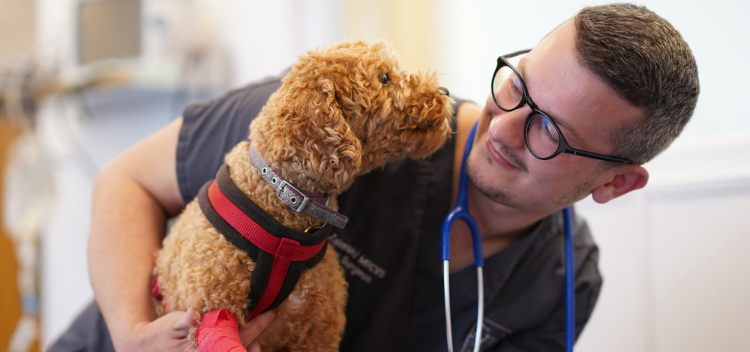 Relaxed Vet consultations
Until one has loved an animal, a part of one's soul remains unawakened. (Anatole France)
We allow 15 minutes for Vet consultations at STAR Vets – that's enough time for a nose-to-tail check-up, and lots of fuss.
Did you know, the majority of health conditions affecting pets don't always have obvious early symptoms? For this reason, you're strongly recommended to take your pet for a health check at least once a year.
Your pet will also benefit from our vaccination and booster service for dogs, cats and rabbits, and our Nurse health clinics that provide a range of free advice consultations.
Let's build a bond
Building trust and a strong bond with our team will help you and your pet get the most out of the veterinary care we provide.
At STAR Vets, we believe the best way to help that happen, is for you to see the same veterinary professional on each visit. Your regular Vet and Nurse will get to know you and your pet, and will be up-to-date with your companion's medical history.
If your Vet or Nurse isn't available on a particular day, or you need to see us in an emergency, all of our team are caring and compassionate professionals who will put the needs of your pet first.
If you wish to see a particular Vet or Nurse, please ask when booking your appointment and we will do our best to accommodate you. 
Thorough pet examinations
Not only will you see a familiar face on each visit to our practice, we also allow 15 minutes for pet examinations – that's five minutes longer than other practices in the area. This extra time means we can pay more attention to your pet's eyes, ears, teeth, skin, coat and claws. We can also listen to their heart and lungs, and examine their abdomen for any unusual lumps and bumps.
We want you to feel at ease in our Vet consultations too; we will discuss any findings with you, treatment options, and answer any questions you may have. Book a consultation for your pet.
There may be circumstances when it is not possible to do everything we need to do in a 15-minute slot and a longer appointment may be more appropriate. For example, a very nervous pet, or a particularly complex case including second opinions, may require a longer appointment.  If this is the case, an appropriate fee will be charged for the additional time taken. If it becomes apparent during a consultation that further tests need to be performed that will take additional time, we may recommend that we admit your pet, or if appropriate, we may ask you to return for a second appointment. 
The best care for your pet
Your companion really couldn't be in better hands. Our Clinical Director & Veterinary Surgeon, Emma Poore, first established our practice as a Support, Therapy and Rehabilitation clinic – S.T.A.R.
That means whatever a routine check-up reveals about your pet's health, whether they require medication or specialist physiotherapy, we can begin their treatment plan right away.