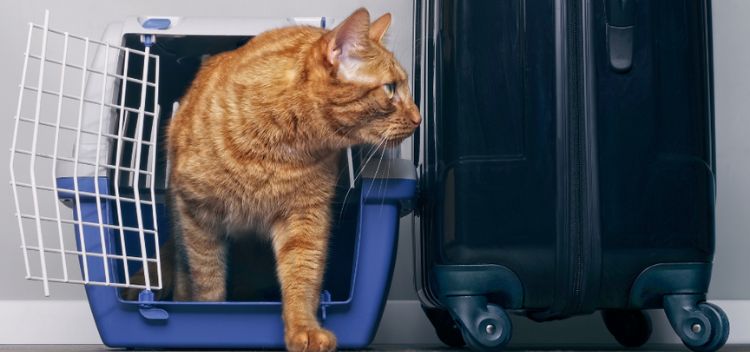 Pet travel certificates & advice
Taking your pet abroad can be a fantastic experience for you both, but it can take some organising. If you're looking for pet travel advice, especially what you need to do post BREXIT, you've come to the right place at STAR Vets in Appleby Magna.
Contact us to book a pet travel consultation
Experienced pet travel Vets
At STAR Vets, three of our Vets hold Official Veterinarian status, authorised by the APHA to issue Animal Health Certificates and other documentation required for pet travel around the world.   
One of them is our owner, Clinical Director and Veterinary Surgeon, Emma Poore, who has a wealth of experience dealing with animal travel requirements. She worked in a zoo for four years and spent a considerable amount of time dealing with imported and exported animals.
You can rest assured that Emma, and our other officiated Vets will be thorough, as well as efficient, whilst helping you obtain the necessary documentation for your pet's travels.
Pet travel requirements
You should begin the process of obtaining the necessary pet travel paperwork at least 6 weeks before you are due to leave. This is because your pet will require a rabies vaccination and a blood test (after 21 days) to prove rabies protection, before they are deemed 'fit' to travel. They will also need some official paperwork, which can only be obtained by Vets who holds the relevant qualifications.
Travelling to an EU country or Northern Ireland
Post-BREXIT, you can no longer use a pet passport issued in Great Britain (England, Wales & Scotland) for travel to an EU country or Northern Ireland. You can, however, still use a pet passport issued in an EU country or Northern Ireland.
When travelling to an EU country or Northern Ireland, your pet needs:
a valid rabies vaccination
an animal health certificate (or a pet passport issued in an EU country or Northern Ireland)
tapeworm treatment for dogs if you're travelling directly to Finland, Ireland, Northern Ireland, Norway or Malta
These requirements also apply to assistance dogs and you may need to produce your pet's documents on arrival.
You can find rules for repeat trips, travelling with more than five pets, and commercial animal exports on the Government's travel advice site
Travelling to a non-EU country
You will need to get an export health certificate (EHC), and complete an export application form (EXA) if you are in England, Scotland or Wales.
The export health certificate checks (via a Vet) that your pet meets the health requirements of the country you are travelling to. You must nominate an officially recognised Vet who will be sent the EHC.
The EHC and EXA form for each country and pet will tell you how to apply.
You should always check the rules for the country/countries you're travelling to and from well before your travel dates, as they may have additional restrictions or requirements. Our pet travel Vets can help you with this.