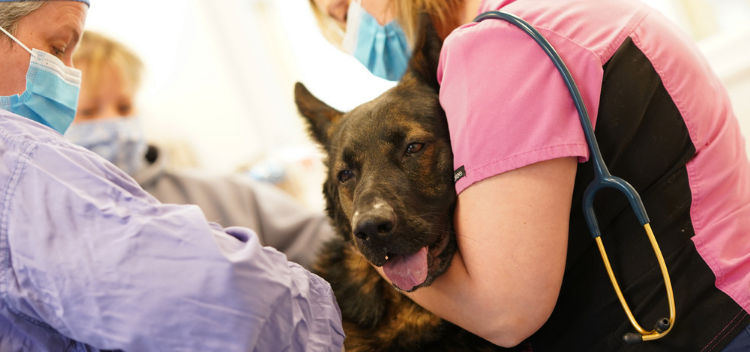 Emergency Vet & out of hours pet care in Appleby Magna
You can rest assured that your companion will be in expert hands should they ever require emergency pet care. Our Appleby Magna Veterinary Team is highly experienced when it comes to treating acute illness and injury, and we have a range of fast diagnosis aids on-site.
We will ensure you are offered an appointment on a priority basis – please make it clear to our Reception team that the matter is not routine. We will do our utmost to attend to your pet as quickly as possible.
If you're calling outside of our normal opening hours, your call will be automatically forwarded to MiNightVets.
Out of hours emergency vet
When we're closed for the day, out of hours emergency pet care is provided by MiNightVet East Midlands – learn more.
Direct Telephone: 01332 819940
Address: Dovecote Veterinary Hospital, 5 Delven Lane, Castle Donington, Derby, DE74 2LJ
What is a pet health emergency?
Pet health emergencies aren't exclusive to obvious trauma and open wounds. The conditions below also require emergency veterinary treatment:
Acute severe lameness
Breathing difficulties
Collapse or significant weakness
Difficulty urinating (particularly in male cats)
Eye problems
Flystrike in rabbits & guinea pigs
Ingestion of toxic substance or food (some poisons can be absorbed through the skin)
Loss of thirst or appetite (rabbits & guinea pigs especially)
Opens wounds with significant bleeding
Seizures
Snake or other animal bites
Swallowing hazards (toys, food, socks, string etc.)
Swollen abdomen or retching (particularly in large dogs)
Trauma such as a road traffic accident, fall, or crushing injury
Vomiting and/or diarrhoea for more than 24 hours, especially if depressed
If you are worried about your pet's health, even if the problem isn't on this list, contact a Vet right away.